At South Axholme Academy we communicate with parents in a variety of ways. Information about the progress a student is making will be sent home typically three times each year in the form of a Progress Review Scan.
The purpose of the Progress Review Scan is to provide clear, regular and accurate information about a student and their progress towards their personal end of key stage targets. It also provides an Attitude to Learning score for each subject. This score gives a valuable overview of a student's approach to learning.
Details of this measure can be found here
In addition, each scan gives the current attendance figures for a student.
Key Stage 3 (Years 7, 8 and 9)
Students are assessed by each department/subject in their journey throughout the three year key stage. The assessment uses both formative and summative information to allow teachers to make a judgement as to what point a student is working in relation to their age related expected progress. A student will be classed as either working towards, expected or exceeding their Age Related Expectation.
The table below provides information as to how a student's Key Stage 2 data generates the Key Stage Target.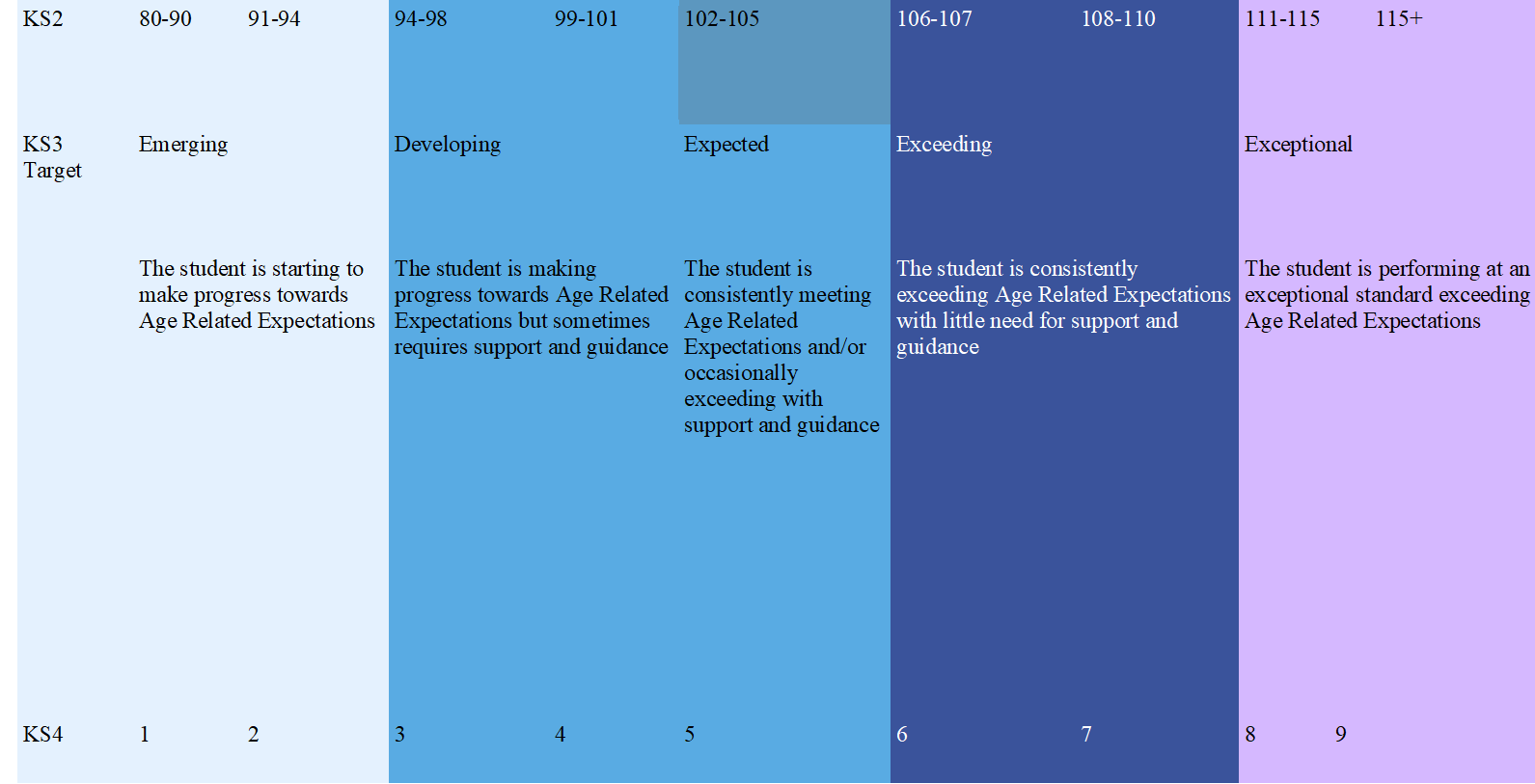 Key Stage 4 (Years 10 and 11)
Once students have selected their GCSE options a Target Grade for each subject studied will be generated. The Target Grade indicates the grade we expect them to achieve at the end of Key Stage 4. It is generated using Key Stage 2 scores and comparing with the historic performance of students of a similar ability nationally at the end of Key Stage 4*. The Target Grade will be a number from 9 to 1 reflecting the GCSE grading system.
Also included in the Progress Review Scan is a Professional Judgement. The Professional Judgement is a means of summarising how securely on track to reach the Target Grade teachers consider a student to be at the time of reporting. Professional Judgements are recorded using a symbol as described in the table below. This symbol is generated by subject teachers and takes into account a variety of factors including classwork, independent learning (homework tasks) and assessment data.
| Professional Judgement Symbol | Explanation of Symbol |
| --- | --- |
| Sig + | On track to achieve more than one grade above their Target Grade by the end of Year 11 |
| + | On track to achieve up to 1 grade above their Target Grade by the end of Year 11 |
| = | On track to achieve their Target Grade by the end of Year 11 |
| - | On track to achieve 1 grade below their Target Grade by the end of Year 11 |
| Sig- | On track to achieve 2 or more grades below their Target Grade by the end of Year 11 |
The Academy scrutinises and analyses all of this data for every student after each scan to help ensure that all students are on track to achieve their potential and to allow us to provide support, challenge and intervention where necessary.
Once each year, parents are invited to attend a parents' evening where they can speak to all subject teachers who are involved with their child.
We actively encourage parents to contact the Academy at any time throughout the year, should they have a query regarding progress and not wait for scans or parents' evenings.
* Please note the Target Grade is subject to review and may change.